Preface's AI Coffee is Back!
Making the Debut of First Cup of ChatGPT Coffee in Hong Kong Experience the power of AI at our Generative AI Exhibition in Causeway Bay Flagship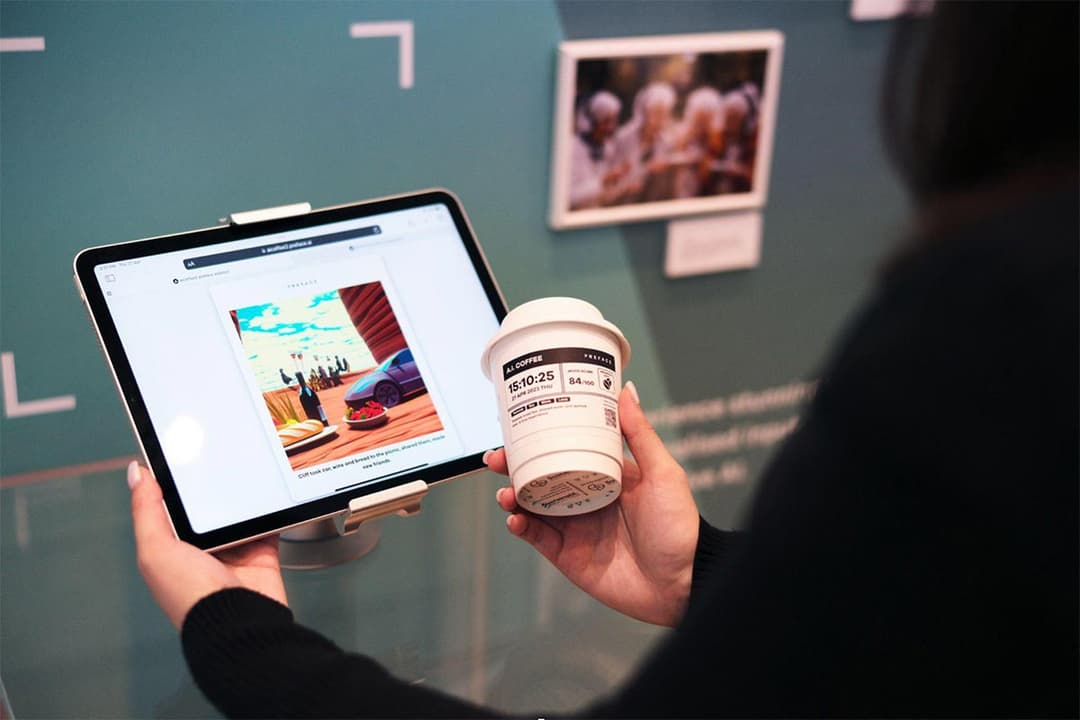 Preface unveils the latest brand campaign in 2023: "The Power of Prompting" (學問 就是學問) - In the era of artificial intelligence (AI), learning begins with questioning. The campaign underscores the importance of questioning as a key skill in the pursuit of knowledge and encourages individuals to develop their questioning skills to enhance their learning experience. Preface has always been committed to integrating technology into daily life. Following the launch of Hong Kong's first coffee blended with AI & big data in 2020, we have advanced further in 2023 with the highly anticipated debut of Hong Kong's first cup of ChatGPT-generated coffee!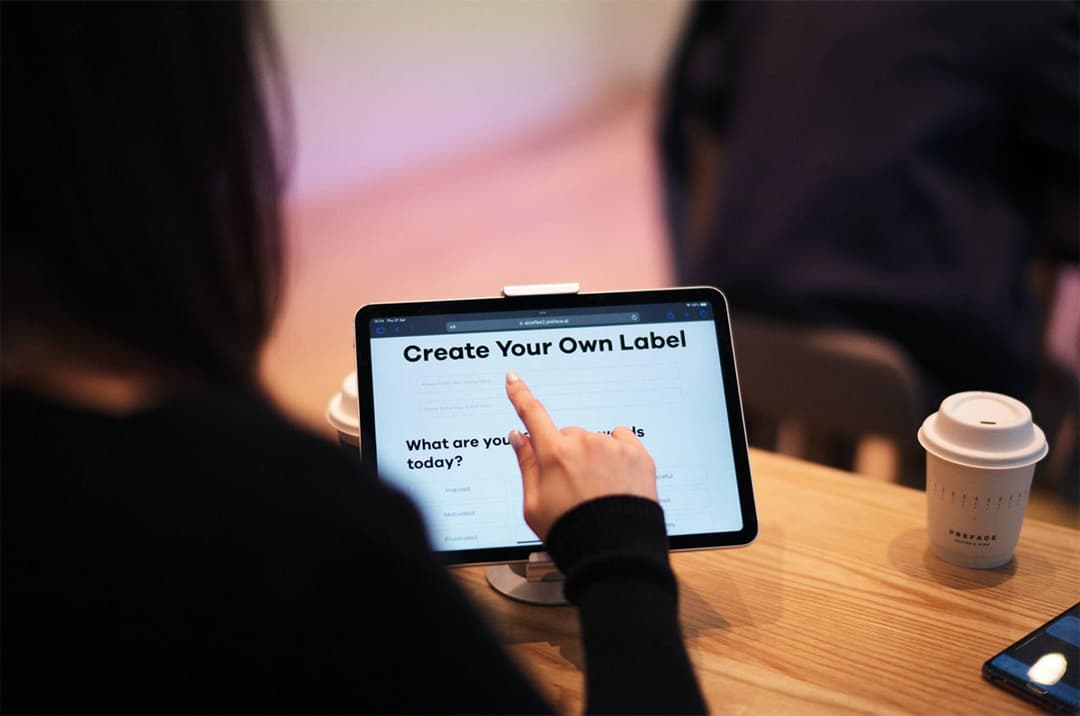 ChatGPT is a popular language model in recent years, with various functions such as language generation, image generation, question answering, and dialogue. After its launch, ChatGPT has sparked global discussion and widespread application, becoming an indispensable part of the new generation and bringing disruptive impact on human development. Earlier this year, Preface launched a series of Generative AI & ChatGPT training courses and held over 60 workshops in cities such as Hong Kong, Singapore, and London, allowing enterprises and the public to understand its practical applications in various industries and encourage future development of innovative solutions. Preface is the first to combine ChatGPT with coffee, launching Hong Kong's first cup of ChatGPT-generated coffee at Preface Coffee & Wine. When ordering, simply enter your name and select a few keywords. ChatGPT will generate a creative story for you, and our baristas will recommend a unique and personalised cup of coffee based on the story co-created by you and ChatGPT.
Preface will also use your creative story to generate a uniquely styled image using AI, for you to share on social media. Every image will be projected in real-time onto the store's projector screen, forming an AI art piece co-created by Hong Kong people. In addition, anyone who orders an "AI Coffee" can receive a complimentary beverage, allowing more people to experience Generative AI technologies like ChatGPT, Dall-E, and MidJourney.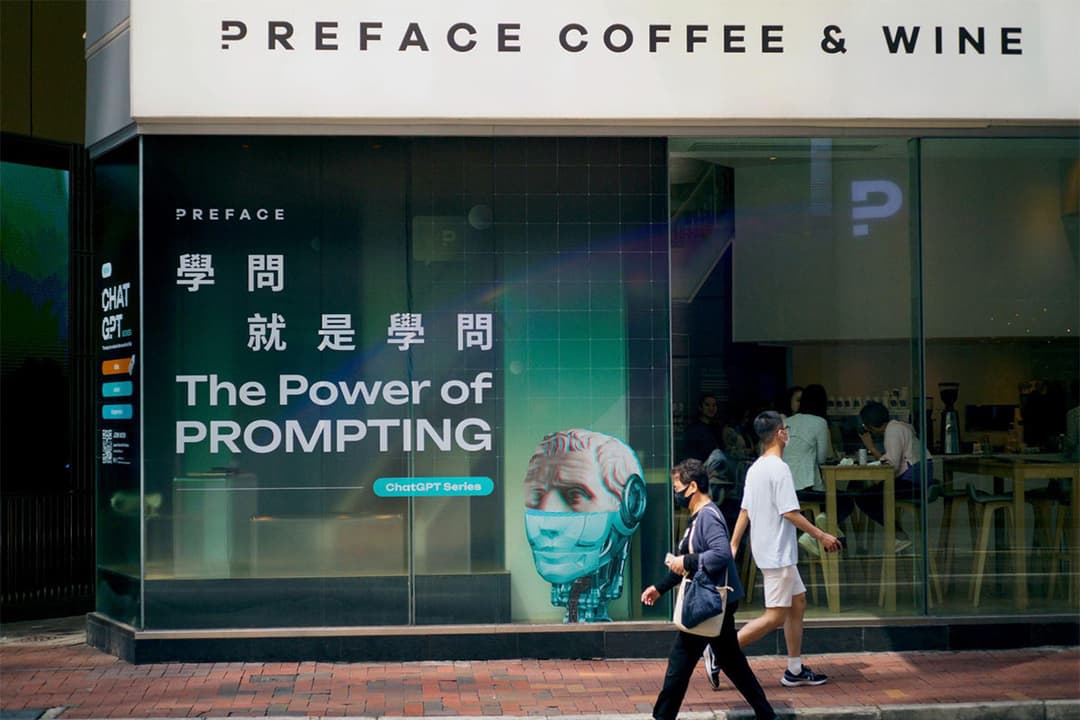 In addition, in anticipation of the era of AI, Preface looks forward to learning together with you and exploring more possibilities, understanding the application and development of AI in different industries. We will hold a series of "Future Symposium 2023", inviting elite speakers from various fields such as Mr John Tsang, to speak on topics related to marketing, brand building, education technology, financial technology and human resources. The symposiums will be held at Preface Coffee & Wine Causeway Bay flagship store from May to June, and all interested parties are welcome to participate. Preface AI Coffee
Date: From 29 April to 21 May 2023
Location: Preface Coffee & Wine Flagship, G/F - 1/F, The Sharp, 11 Sharp Street East, Causeway Bay Anyone who orders an "AI coffee" can receive a free non-alcoholic beverage on their next visit (redeemed latest by 31 May 2023).
Preface Future Symposium 2023
1. The Future of Consumer Engagement
2. The Future of Education
3. The Future of Financial Services
Date: 10 May, 23 May, 6 June, 20 June
Location: Preface Coffee & Wine Flagship, 1/F, The Sharp, 11 Sharp Street East, Causeway Bay
Details and registration for the symposiums will be announced on Preface's social media platforms in May. Register now for the AI & ChatGPT workshop: https://bit.ly/41ARDyF
About Preface
Preface is a leading technology training company headquartered in Hong Kong, with branches in Tokyo, London, and Singapore. We empower enterprises and individuals to stay ahead of the curve in today's fast-paced, tech-driven world. Our AI-powered tech training programmes provide fast and relevant content that helps our learners future-proof their businesses and careers.
At Preface, we aim to revolutionise learning by disrupting traditional education methods. We believe that learning should not be confined to a classroom setting. This is why we have established Preface Coffee & Wine, a lifestyle destination where everyone can enjoy quality coffee and wine, participate in diverse events, connect with like-minded individuals, and get a taste of the latest tech trends, all in a comfortable and inclusive environment that seamlessly bridges the gap between technology and learning for the community.
Media EnquiriesStephanie Yau
PR & Impact Lead, Preface
T: (852) 6340 2256 E: stephanie.yau@preface.ai