The Comprehensive Guide for Adult Coding Class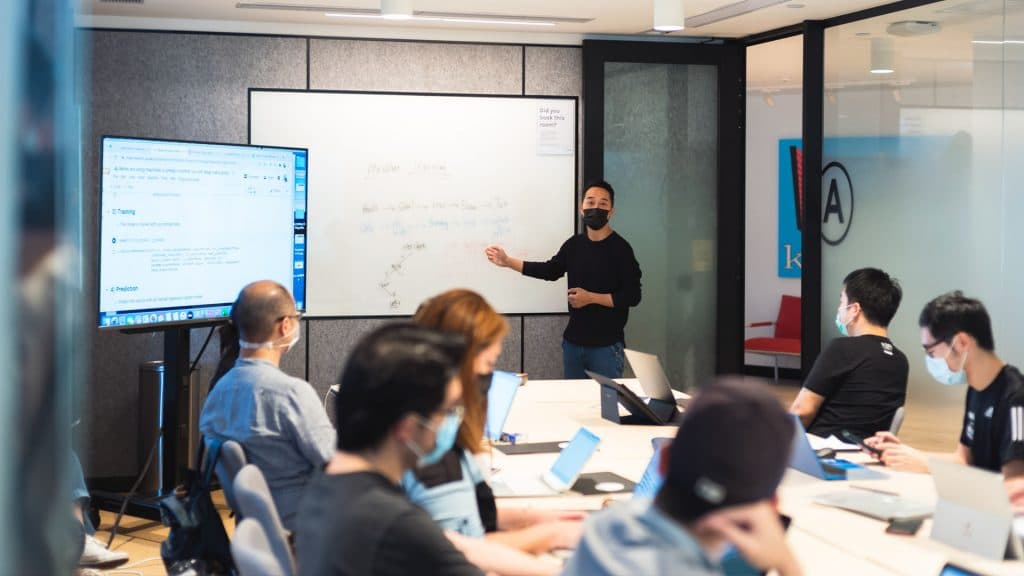 Coding is one of the most mentioned skills in every business. No matter which sector you're in, coding is always useful  for in improving your work. So how can you start learning how to code?  Preface Coding has prepared a comprehensive guide for all the information you need about coding classes!
Why do you need coding for your career?
The answer is simple – because it is an added advantage for any job profile. 
Even your chosen career is plainly irrelevant to software development, at least for now, there are still 5 surprisingly broad benefits to consider:
1. Be digitally literate
Why learn to code? As you can see, every company has embraced and used technology, where businesses cater, there you find applying computers usage. That explains why getting buddy-buddy with computers is important – if you know how to communicate with these ice-cold machines, you must be able to identify and use them confidently, creatively and critically to meet the challenges in today's digital society.
2. Expand your career prospect
While technology has become an increasingly significant portion of our daily life, massive job opportunities arose, including but not limited to programmers, software engineers and app developers. Not only is coding a valuable asset to those technical roles, other professionals such as marketers and administrators can also gain a competitive edge from familiarising themselves with this intercommunication process!
3. Great earning potential
Obviously, the most discussed draw of learning how to code is the earning potential. Take computer programmers as an example, according to a report released by US News in 2019, the median annual salary was nearly $90,000 USD. If you work in metropolitan areas, the wages were far more – about 50% higher than the average.
4. Strengthen critical thinking skills
Steve Jobs once said, "Everyone should learn how to code, it teaches you how to think."
As coding is one of those activities where the practitioners must try, make mistakes, and try again, until reaching the final solution, this process actually synchronizes with the patterns and steps of critical thinking. One point worth bringing up is that in the world of coding, things are not black and white, evaluating the issues from different angles may come up with multiple "right" answers. This variability can train your mindset to be open to new ideas and stay flexible.
5. Improve your social life
Can you imagine that? This nerdiest hobby is now a great way to expand your social circle!
Instead of using old-fashioned texts and drawings, with coding skill, you can share your thoughts with the entire world with interactive applications and websites. You can even create a platform for people who share similar interests and beliefs to get together. The huge potential provides you with a new outlet to connect with friends all around the globe.
Want to keep up with the tech-driven future? Check out Preface Coding Event for our latest Tech Seminars and Coding Workshops to stay relevant! Come enjoy the exquisite beverage selection from Preface Coffee & Wine while updating yourself with the most up-to-date knowledge!
How can I start learning coding from zero?
Just type "how to code" into the search box on Google, and you will see hundreds of pages fighting to be your advisor. Don't know which route works best for you? Preface has summarized the most mentioned methods for your easy reference.
Online Resources
If you have literally no knowledge base at all, it would be a good idea to get a feel for it through online courses. 
You can visit Codecademy, Udemy, edX for some free tutorials. Try to pick a language and complete the related tasks to get a sense of what coding is before jumping in with both feet. These websites offer structured curriculums including videos, readings and quizzes, so if you first start to learn, this could be a great opportunity for you to experiment whether you really like this whole coding thing and want to give it a real go.
Coding Class
After having a foundation and most importantly, determination, you can then dive deeper into learning coding. 
As much as you like taking these online courses, the path of being a self-taught coder is not quite straight, you need a dedicated instructor to make sure you are on the right track. For instance, how do you know if the resources are worthwhile and relevant? A professional mentor can prevent you from being overwhelmed by thousands and thousands of learning materials over the web, moreover, to save you from constant self-doubt since they can give you honest pointers and ignite your spark. 
True, it costs money, but definitely worth it especially when you can be job-ready in less than 6 months.
Case Studies for programming at work
Regardless of your specialization, coding opens up new areas of opportunity in your career and ultimately makes you a more flexible candidate in a rapidly-shifting digital economy. Think I'm bluffing? Let's see the cases below!
Data Science in Business
Thanks to the wide affordability of internet access, the target audience can be easily monitored and tracked. Gone are the days of making decisions solely based on gut instinct, today's marketers plan every detail with reference to the data collected through different channels. 
Still, deriving actionable insights from data is not that simple, that's how data science comes in handy. Marketers equipped with relevant knowledge are capable of analyzing the numbers from the webs, smartphones, sensors and other sources, thus, gaining a deep understanding of the customers and identifying their actual needs in a more structured way. 
Of course, marketing is just an example, the skill also plays an important role in a wide array of fields, including but not limited to hospitality, event planning, human resources, finance and management.
Python in Business
Hailed as one of the most popular programming languages across the globe, not only has Python been used by the biggest names like Instagram, Netflix, Google and Spotify, it has also built a strong presence in some unexpected areas such as retail, education and even your local bank service. 
Whether you are an engineer or not, Python remains a valuable asset. Can you link up this programming language with UI design? As a matter of fact, learning Python helps designers to present more unique, user-friendly and intuitive graphics. The clinical professionals have also used Python-based artificial intelligence to conduct more accurate diagnoses. Last but not least, modern farmers have started using Python to make yield predictions and manage pest problems. 
Name any kind of career and Python must be applicable! The only limit is your imagination and commitment.
Adults Coding Class Recommendations
Master the fundamentals of data science with Python basics alongside an elite instruction team in just 80 hours. With over 6,000 graduates, Preface's top-tier coding education is well recognized. The course goes over the entire data science process, including APIs, matrix factorization and cross-validation methods. If you are more interested in machine learning and algorithms for predictive analysis, this course also covers these advanced concepts with a focus on practical business applications.
The Web Developer course offered by Preface has already been enrolled by many leading companies such as JP Morgan, Cathay Pacific and Adidas. It is a beginner-friendly course that takes a step by step teaching approach to give learners a solid foundation in both front-end (HTML & CSS) and backend (Python in Django) development. This specialization is structured as 5 modules, each with comprehensive exercises, quizzes and assignments to test and validate the learning of the course. The final project requires students to complete their own web product using APIs and various background jobs, so it can be guaranteed that students can firmly understand how to apply programming techniques to various actual use cases.
Disney has released a web-based coding class called Disney Codeillusion that comes with a physical project book. Realizing adult learners face their own set of difficulties, Disney has used quite a unique approach to help the grown-ups to study, practice and retain the information. The online class will cover 4 essential coding concepts namely the HTML, CSS, JavaScript and Processing within 125 lessons, each lasts for 30 minutes. After building the foundations, students can start creating a website, game and media art completely from scratch. If you often get bored of the regular teaching style, the Disney characters might be your ideal study partners to keep your motivation.
Want to keep up with the tech-driven future? Check out Preface Coding Event for our latest Tech Seminars and Coding Workshops to stay relevant! Come enjoy the exquisite beverage selection from Preface Coffee & Wine while updating yourself with the most up-to-date knowledge!
Wish to see what other innovative projects that we have launched? Take a look at our Instagram or Facebook for our latest news.